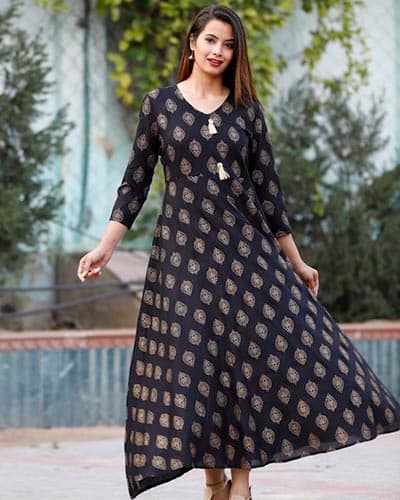 Clothes are our chosen skin. The clothes shows how we feel about ourselves and what we want to tell the world about who we are. Clothes tells a story about our history, culture and social customs. Social norms are how people consider themselves, what they aspire to be like, and the way they expect others to act. As for social influence, people are constantly watching each other, and therefore the biggest predictor of purchases is people .
Different types of fashion outfit are available in market especially for females. But one outfit that is suitable in every type of event, situation or circumstances is Indian Kurti.
Fashion Industry is the second largest pollutant in the world. Synthetic fabrics like polyester, spandex, nylon, rayon, etc. are non-biodegradable.
No matter if you are posted at higher position on company ladder or managing an ingenious desk or both, it pays to dress up for the job you have and then some for the one you want.
Kurtis are loved by women all around the globe .They're a work of beauty. There are many different types of kurtis although, there's something they all share, no matter the colour, pattern or kurti design, all kurtis are super comfortable and prepossessing with endless choice. Irrespective of style statement is, kurti fits in all of them. And then, it even takes the guesswork out of getting to settle on what to wear after some extent. If you are looking for a good place to start, we have some cues on the essentials. And with a couple of outfit swaps and accessory experiments, you'll be ready with your style at your office and in no time.
kaftan kurti
A kaftan kurti has its origins in the Middle East.
This kurti is characterized by its loose fit.
It has a tightened belt round the waist and wide flared arms.
Angrakha kurti
The angrakha kurti was originally worn in Rajasthan.
The angrakha looks the simplest when it's a standard block-print design.
Anarkali kurti
The anarkali kurti is an evergreen beauty.
This kurti design is so versatile; one can wear it to a big fat Indian wedding and even for a casual lunch with your friends.
Denim kurti
Denim kurti cab be worn at work and even a casual day out in the mall.
This shirt style kurti is typically mid-thigh length, it suits people with a slim and toned lower body.
Always pair your denim kurti with light coloured bottom.
Double layer kurti
A double layer kurti is simply like all other kurti, with one tiny change – a further layer. The look and aesthetic of the double layer kurti depends on the design and therefore the cut of the kurti.
Jacket style kurti
The jacket style kurti is one of the best way to dress up any outfit.
The great thing about this kurti style is that one can create Indian , western looks as well as even indo-western looks .